Inleiding
The USB32HDES Slim USB 3.0 to HDMI Adapter turns a USB 3.0 port into an HDMI output with 1920x1200/1080p video support. The adapter minimizes clutter with a slim design that seamlessly blends with your video cable - an ideal space-saving solution for multi-monitor applications on UltrabookT, laptop, or desktop computers.
Functioning as an external graphics card, this USB to HDMI adapter provides a convenient way to add multi-monitor capability to a USB 3.0-enabled desktop or laptop computer (optimal performance from USB 3.0, backward compatible with USB 2.0).
To save space while travelling, this ultra-portable USB to HDMI adapter features a lightweight, small footprint design that fits easily in a laptop carrying bag.
Leveraging the high-bandwidth (5 Gbps) SuperSpeed USB 3.0 interface, the adapter delivers smooth, high-definition content to your HDMI display/projector. The adapter can be used to mirror your primary desktop, showing the same image on each display, or to extend your desktop to double your workspace and increase your productivity.
The USB32HDES is backed by a StarTech.com 2-year warranty and free lifetime technical support.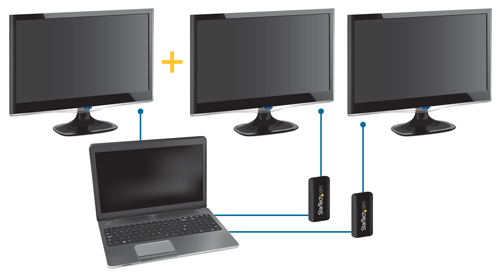 Recommended System Requirements:
CPU: Quad Core 2.4GHz or Higher (i5 recommended)
RAM: 4GB or higher
USB 3.0 Port (Backwards compatible with USB 2.0)
Benefits

Minimizes clutter, with a slim design that blends seamlessly with your video cable
Ensures smooth, High-Definition video content, using a high bandwidth USB 3.0 connection
Ideal for travel with an ultra-portable small footprint and lightweight design

Features

Slim lightweight design
Ultra-portable
SuperSpeed USB 3.0 (5 Gbps)
Supports High-Definition video resolutions up to 1920x1200/1080p
USB-powered - No external power adapter required
Supports Mirrored, Extended or Primary display configurations
Supports display rotation

Specification
Connector A: USB Type-A (9 pin) USB 3.0 Male Input
Connector B: HDMI (19 pin) Female Output
Operating Temperature: 0įC to 50įC (32įF to 122įF)
Storage Temperature: -10įC to 75įC (14įF to 167įF)
Humidity: < 85% non-condensing
Audio: Yes
USB Pass-Through: No
Memory: 16MB DDRII SDRAM
Chipset ID: MCT - T5-302
Output Signal: HDMI
Shipping (Package) Weight: 150 g [5.3 oz]
Maximum Digital Resolutions: 1920x1200/1080p
Supported Resolutions: Widescreen(16/32 bit):
Standard(16/32 bit):
Wide Screen Supported: Yes
Audio Specifications: 2-Channel Stereo (48Khz)
General Specifications: This USB video adapter uses a Trigger family chipset. If you're connecting this device to a computer along with additional USB video adapters or docking stations, please avoid using devices with a DisplayLink or Fresco family chipset.
Color: Black
Enclosure Type: Plastic
Cable Length: 62 mm [2.4 in]
Product Length: 190 mm [7.5 in]
Product Width: 25 mm [1 in]
Product Height: 12 mm [0.5 in]
Product Weight: 23.5 g [0.8 oz]
Power Source: USB-Powered
OS Compatibility: Windows 10 (32/64)
Microsoft WHQL Certified: Yes
System and Cable Requirements: CPU: i3 Dual core 2.8GHz
RAM: 2GB or higher
Full HD Video:
CPU: Quad Core 2.4GHz or Higher (i5 recommended)
4GB or higher
Not intended for gaming
Note: Connect a maximum of five USB32HDES adapters on a single PC - See manual for system requirements
Included in Package: Slim USB 3.0 Video Adapter
Driver CD
instruction manual